How to Access the Beach as a Wheelchair user?
You may wonder how you can access the beach as wheelchair user? The beach is a great place to relax and unwind. Listening to the sounds of the waves slowly rolling in, breathing in the fresh sea air or feeling the warm sun and sand on your skin are some of the benefits the beach has to offer.
As a wheelchair user it can be sometimes difficult to access different beaches and have the chance to enjoy this experience.
This article will provide you with some useful tips and ways you can get to the beach with your friends and family.
Beach matting for wheelchair beach access
Beach matting is an option for those beaches that do not provide wheelchair access. The benefits of the Mobi Me access mat include:
Light weight (only 5.5kg) easy to carry and set up as a wheelchair user

Made up of 100% recycled bottle material

Durable and non slip surface

Only requires 1x person to set up, quick and convenient, temporary solution

Can be used in variety of terrains not just the beach but snow, parkland, bush etc

More suitable for light to medium wheelchairs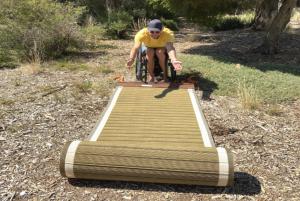 The Mobi Mat is another form of beach access matting. The benefits of this matting include:
Useful as both a temporary and permanent matting solution

High quality material and very durable lasting 10 years+

Available in 5 to 30 metre lengths

Caters for a wide range of individuals who use wheelchairs and electric scooters

Easy installation and low maintenance

Only 2 people required to lay out a path

Saltwater resistant and can be fully submerged underwater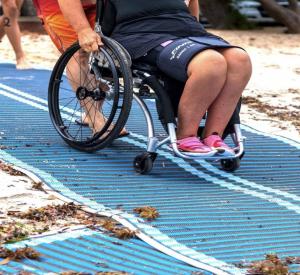 Wheelchair devices for beach access
So there are a range of wheelchair options out there depending on your individual needs.
For example the Freedomtrax FT1 is one option which offers an all-terrain transport system for your wheelchair.
Above all it enables you take your wheelchair pretty much anywhere including the beach, snow and muddy, and rocky terrain.
Because his wheelchair device may enable you to reach places you never thought possible and get out in the community, it may be a great addition to help you reach your NDIS goals.
In addition the range for this device is approximately 8km. It is powered by 24V twin motor Lithium battery.
This device is also useful for manual wheelchair users who have aches and pains and want to reduce the load through their shoulders from propelling on difficult terrains.
For further info on this check out Struggling with Shoulder pain? 7 Physio Tips for Manual Wheelchair Users.
Wheelchair options
Lasher BT-Beach Wheelchair is a great option for those who are able to self propel and want to access the ocean and the beach as a wheelchair user.
Because this chair can handle super soft sand is a great addition for those who love the beach.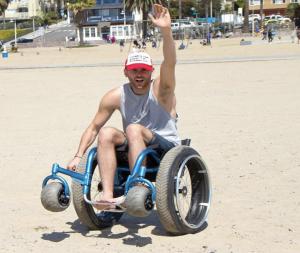 The Sandcruiser® beach wheelchair is a popular chair on the market due to its durability and stability. It is designed for both soft and hard sand as well as going into shallow water.
It can be easily disassembled and put in most medium to large vehicles for transport.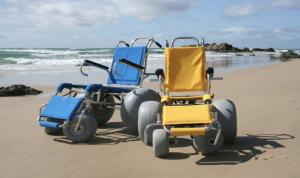 The Mobi-Chair® enables the user to not only go on land but also float within the water. This fun bit of equipment gives the user the full experience of the beach by enabling them to submerge in water.
This device has passed the Australian standards of quality control. It has 3 seating settings for added comfort.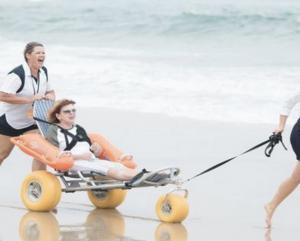 Hire equipment for wheelchair beach access
Another option to purchasing equipment is to check out your local surf life saving clubs or get in contact with your local council to see what beach equipment is available.
The Gold Coast offers free use of equipment for wheelchair users for a range of different beaches around the Gold Coast.
Check out what information is available in relation to the nearest beach to you.
The City of Gold Coast website offers information surrounding what facilities are in the area for wheelchair users and what equipment is available during different seasons.
Another option in the Gold Coast region is to hire the equipment for yourself. Gold Coast Sport and Recreation has partnered with Gold Coast City Council to offer free wheelchair beach access chairs for those with disabilities in the community for up to 7 days.
For example equipment hire can include the Hippocampe and the Suncruiser beach wheelchairs.  Their website offers all the appropriate information in regards to the pick up locations in Southport and terms and conditions of use.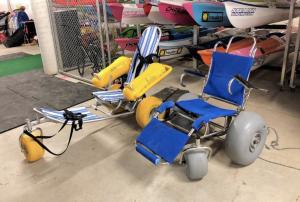 Social beach events for wheelchair users
Likewise checking out your local community groups for information on social events and activities at the beach that may be of interest. Some ideas may include:
 Surfing is a fantastic sport which is great for the soul. Nothing beats the feeling of gliding across a wave and feeling its energy and momentum glide you across the surface.
Check out these organisations and events for surfing for those with disabilities: competitive and non-competitive adaptive surfing or the disabled surfer Association of Australia (DSAA)
Another fun way to access the beach could be to take a buggy tour. Check out your local region to see if there are any Buggy Tours if you are looking for a fun way to access the beach and see the surroundings.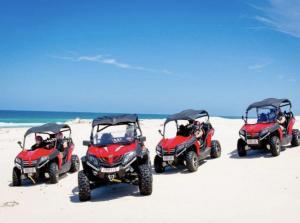 Other beach accessories for wheelchair users
Ok so now you have some ideas on how to access the beach. One idea may include using a beach umbrella. This clamp on beach umbrella is a handy attachment that enables you to wheel along the beach without being exposed to those harmful sun rays in Summer.
As a result this umbrella keeps your skin safe from 99.5% of the UVA/UVB rays from the sun. The umbrella attachment can be used on wheelchairs handles, shopping carts, golf carts, strollers and scooters.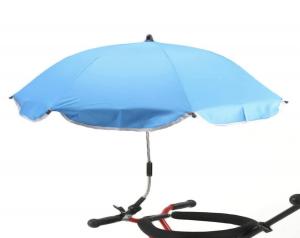 In conclusion the above tips are a great way to gain access to the beach in your local community as a wheelchair user. Start living the life you deserve and visit some of the beaches in your local region today.
(FIRST CLASS PHYSIO- MOBILE PHYSIO GOLD COAST)-NDIS REGISTERED PROVIDER
Written by James Doyle B, ExSc.Rhb, M.Phty  ©2022
COMMENTS: Please comment below. Look forward to hearing your thoughts…